Looking for a new necklace to add to your collection? Consider the timeless elegance of a Cuban link chain. With a variety of styles to choose from, it can be challenging to find the perfect one to match your personal taste. Fear not! Our blog post offers helpful tips on selecting the ideal Cuban link chain necklace to complement your unique style. Discover the perfect addition to your accessory collection today.
What Material Should You Choose?
Although gold is usually the first choice of material by many wearers who want to look dapper, a Cuban link chain can be designed with Silver, Titanium, or Platinum.
The Cuban link chain made of pure gold will be soft and brittle. So, do remember Gold Cuban chains contain metals such as silver, copper, nickel, and palladium. Gold chains have a dark yellow color which might not suit your everyday outfit, but they have a much higher market value (this keeps your investment in the chain safe).
Just like gold, platinum is another fine choice as it gives your chain the perfect density, has incredible market value and comes in silver color (works great for you if you are not a fan of gold, yellow shade).
As for silver and titanium, they are silver in color and come with an affordable price tag, especially titanium Cuban link chains.
How Many Karats of Gold Should I Use?
Most people try to follow in the steps of their favorite rappers and hip-hop stars. But do remember you are not Jay Z, who could easily flaunt a 10-pound gold chain in front of everyone.
Gold Cuban chains come in 10k, 14k, or 18k karat gold. Adding more karats to your chain makes it more pure, heavy, and expensive; keeping it between 14 to 18k gives your chain an adequate feel and strength. But if pricing is an issue, a 10k gold chain is also a fine option.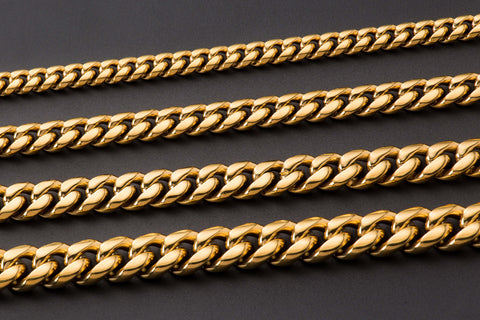 What Size is Perfect for the Chain?
The size of your Cuban link chain depends on your personal taste and your body frame.  
If you wish to bring out your collar bone by wearing a Cuban chain, the ideal length should be 16 inches.
A long chain will look more appropriate if you have a liner body structure.
As for someone short and fuller, a chain with the standard 18 and 20 inches long will be most suitable.
16-18 inches long Cuban chain will make women look more elegant.
Consider the Shape of Your Neck
When you set out to find a Cuban chain for you, don't forget to consider the structure of your neck. Chains having a length of 20- 24" will make your neck look longer but if you want a slim look for your long neck, consider getting a choker style Gold Cuban chain for you.
Choosing the Link Type is Important
A suitable link type will prevent your chain from getting tangled. For example, the Cuban snake chain can get caught up in the threads of the clothes, while twisted chains require more extensive cleaning methods.  
Where Will You Be Wearing it?
How often will you wear the chain, and does it perfectly balance your everyday outfit are some important considerations while choosing the style and material for your Cuban chain.
If you want a more subtle and casual-looking Cuban chain that can be worn every day, try a platinum or stainless steel chain. They are excellent for regular use compared to gold as they are generally waterproof. The silver color of the metal complements formal outfits while also being prominent.
A choker style Gold Cuban chain is suitable for casual outfits making your collarbone visible.
What is Your Price Range?
How much you are ready to invest significantly affects your decision to purchase a Cuban chain, its material, and the finish.
Gold Cuban chains are generally the most expensive option. Depending on karats, they will cost you $10000-$40000 or more. Silver comes into the affordable category with a cost of about $50-500. The cheapest option is stainless steel which you can easily get a $50-$100.
Quick Tips for Creating Style with the Cuban Chain
If you want a Cuban link chain that enhances your personality, make sure to choose the right material, perfect size, and accurate thickness of the Cuban link chain. Here are some quick tips to help you out.
If you are not tall, it's better to consider a chain with a length of 16-20". It will go well with your height.
Choose the length of the chain according to your face type. If you have a round face, avoid wearing a choker or short chains. They will give your face a chubbier look.
If you wear a suit most of the time, consider getting a 20-24" long chain. It will give you a classier and a nice look.
You can add a beautiful pendant to your sterling silver chain and make it more eye-catching. A pendant around your beck will spice things in your overall appearance.
Sterling silver Cuban link chains are a newer trend in the link chains world. They are classy, strong, and give a bold vibe to the wearer without overdoing.
Instead of wearing a single chain, you can go for various chains with varying sizes layered at your collarbone. This way, you can make can effortlessly create a style statement.
You can make your Cuban chain more unique by encrusting diamonds into the design. (If you have no limit on the budget).
Choose Your Cuban Link Chain from the Best Collection at CIC
If you are looking for a high-quality yet affordable Cuban link chain for men, browse through our extensive range at Cuban link chain (CIC). Offering the best selection of Cuban link chains made from pure silver and titanium steel, we make it easier for you to buy affordable Cuban chain jewelry. It is a silver Cuban link chain, a titanium steel Cuban link chain or women Cuban link chain you are looking for, we have got you covered.