Cuban link chains are a stylish and popular choice for jewelry, but over time they can become dull and tarnished due to exposure to environmental elements, skin oils and sweat, and even makeup or cologne. These products contain acid that can slowly damage the shine of the chain. But if you want your Cuban link chain to remain attractive, shiny, and fresh, regular cleaning is a must. So, the question is how to clean a Cuban link chain in a way that is safe and yields the best results.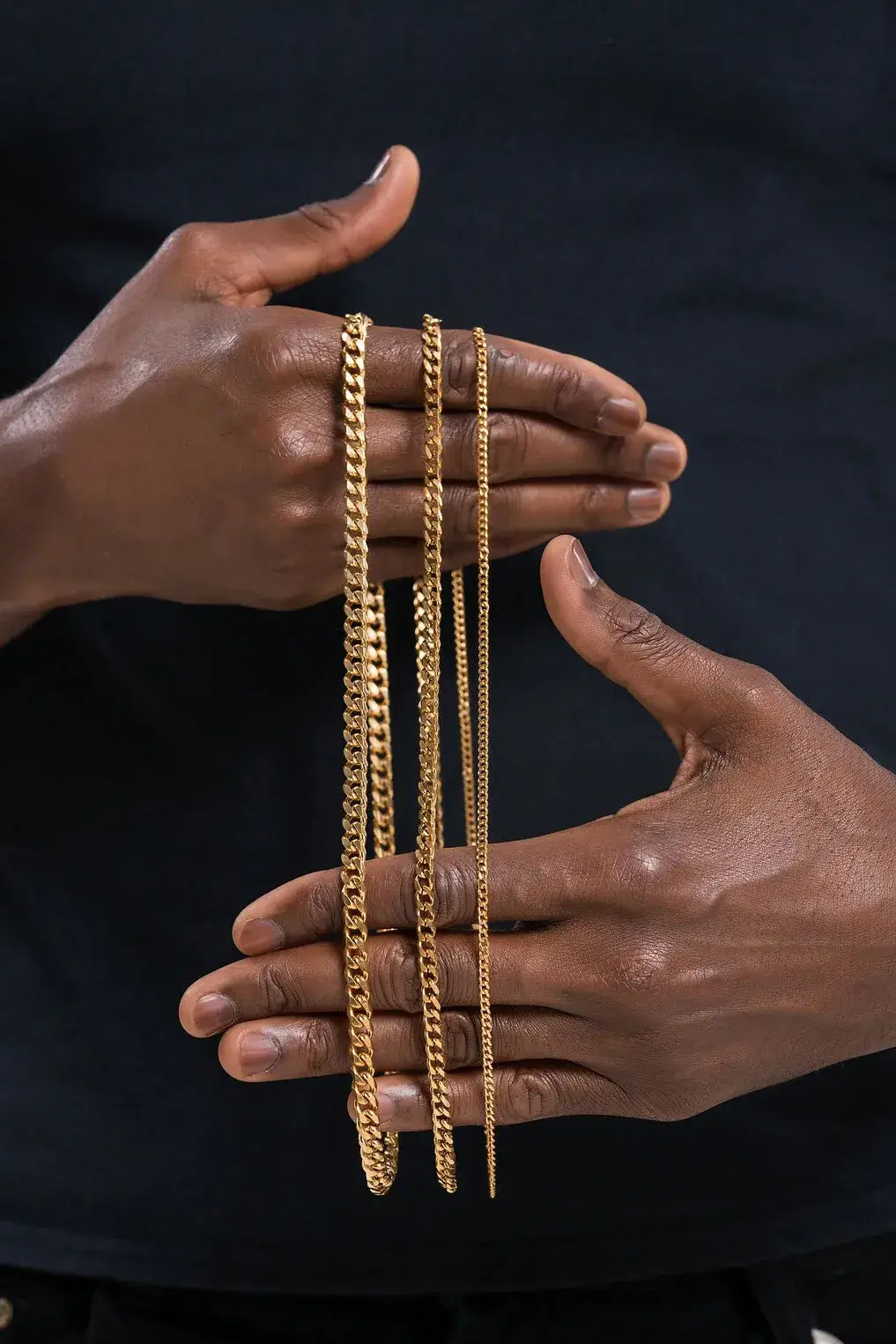 CLC&CO's Gold Cuban Link Chain
Some Simple Ways for Cleaning a Cuban Link Chain
Cleaning a Cuban link chain is simple but a bit challenging. Although the process of removing grime from the chain can be performed at home, you need to be extra careful to do it right. The links of the chain are closely connected. Putting too much pressure on the links may cause them to snap, or a slight mishandling may damage the exterior of the chain.
Here, we have some simple, quick, and easy ways that will help you clean your chain in just a few minutes.
1. Use Dish Soap and Water
The simplest and cheapest way is to use regular dish soap or laundry detergent. Mix the detergent in warm water and create a foamy lather. Carefully soak your chain into the solution for a few minutes and then gently stir it to remove the dirt from every nook and corner. Rinse your jewelry and thoroughly dry it with a soft cloth.
Tada!! Your chain is shining as if it just arrived from the shop.
Remember: Make sure to wipe and dry the chain fully after removing it from the foamy solution. A single drop of water may cause oxygen to migrate to the gold's surface, which will ultimately result in corrosion.
2. Apply Peroxide Solution
This is an offbeat yet effective method of cleaning the gold Cuban link chain. You might need a few things to prepare your cleaning solution, which includes the following supplies:
Ammonia
Hydrogen Peroxide
Few drops of laundry detergent
Warm water
Mix all these ingredients in the bowel and soak your Cuban link chain in the solution for about half an hour. The mixture will extract all accumulated dirt and filth from all the bends of the chain. Take it out, rinse it, and dry it properly to have a shiny, spotless chain in no time.
Remember: The process is suitable only for a Gold Cuban link chain. So, if you have a metal or gold plated chain or a Cuban chain with gems and stones, avoid using this technique. The chemicals used in this method can destroy your jewelry and make you rush to a professional for costly repair.
3. Ultrasonic Cleaning Technique
The ultrasonic cleaning technique is mostly used by professionals as the ultrasonic cleaner is a device that emits high-frequency sound waves. These frequencies make the water loosen the dirt from all the curves of the chain.
Remember: Not everybody has an ultrasonic cleaner at home. However, buying one is not expensive; it cost around $30 or more.
4. Get Toothpaste
Cleaning a Cuban link chain with toothpaste will also bring out the beauty of your gold piece. Apply toothpaste on your chain using a soft toothbrush and let it sit on the chain for a few minutes. Make sure to gently scrub the toothpaste and avoid rubbing the stones and gems embedded in your jewelry. Finally, rinse the chain with warm water and dry it with a soft cloth.
Remember: Use a brush with soft bristles because toothpaste contains rough particles that may cause scratches on your chain. Besides, avoid applying the paste on the stones and pearls as this will ruin their shine.
5. Boil Water and Baking Soda
Dipping your gold Cuban link chain in boiling water removes all the dirt from the crevices of the chain. Place your chain in a pot and add water along with a pinch of baking soda. Gradually, bring the water to a boil and stir the chain. It will allow the water to reach every link of the chain. Take the chain out, and don't forget to pat it dry.
Remember: Don't overheat the water as it may destroy the surface of your chain.
It is important to remember that different types of metals may require different cleaning methods, so be sure to check the manufacturer's instructions before cleaning your Cuban link chain. By following these tips and tricks, you can ensure that your Cuban link chain remains in top condition and adds a touch of sophistication to any outfit. 
Tips To Maintain a Cuban Link
Cleaning your Cuban link chain may seem like a straightforward task, but to truly keep its shine and luster intact, it's important to follow a few key tips.
Here are some tips to keep in mind:
Steer clear of jewelry cleaning solutions as they contain harsh chemicals that may dull the shine of the chain.
Remember to take off your chain before going to bed as this will protect it from breaking and scratches.
Store your Cuban link chain properly in a jewelry box to keep it tangle-free and safe.
Clean your cuban chain on a regular basis using warm water to maintain its shine and brightness.
Looking For a New Cuban Link Chain?
If you plan to buy a new Cuban link chain, visit Cuban link chain (CLC), where we bring our customers the best and one of the most extensive selections of Cuban link chains in town. Made from pure silver and titanium steel, we provide affordable Cuban chain jewelry with top-notch quality and dedicated customer services. You want a silver Cuban link chain or a titanium steel Cuban link chain, you want Cuban link chain for men or women's Cuban link chain; we have everything you need.