If you're searching for the perfect accessory to complement your party wear or elevate your formal office attire, look no further than the Cuban Link Chain. With its strong and masculine appeal, this intricately crafted chain adds a touch of contemporary flair to any outfit - from traditional to trendy. It's no surprise that celebrities in the hip hop scene consider these chains a must-have fashion accessory. Despite their simplicity, Cuban link chains come in different styles, all with surprising strength and durability. Discover which Cuban link style is perfect for you today.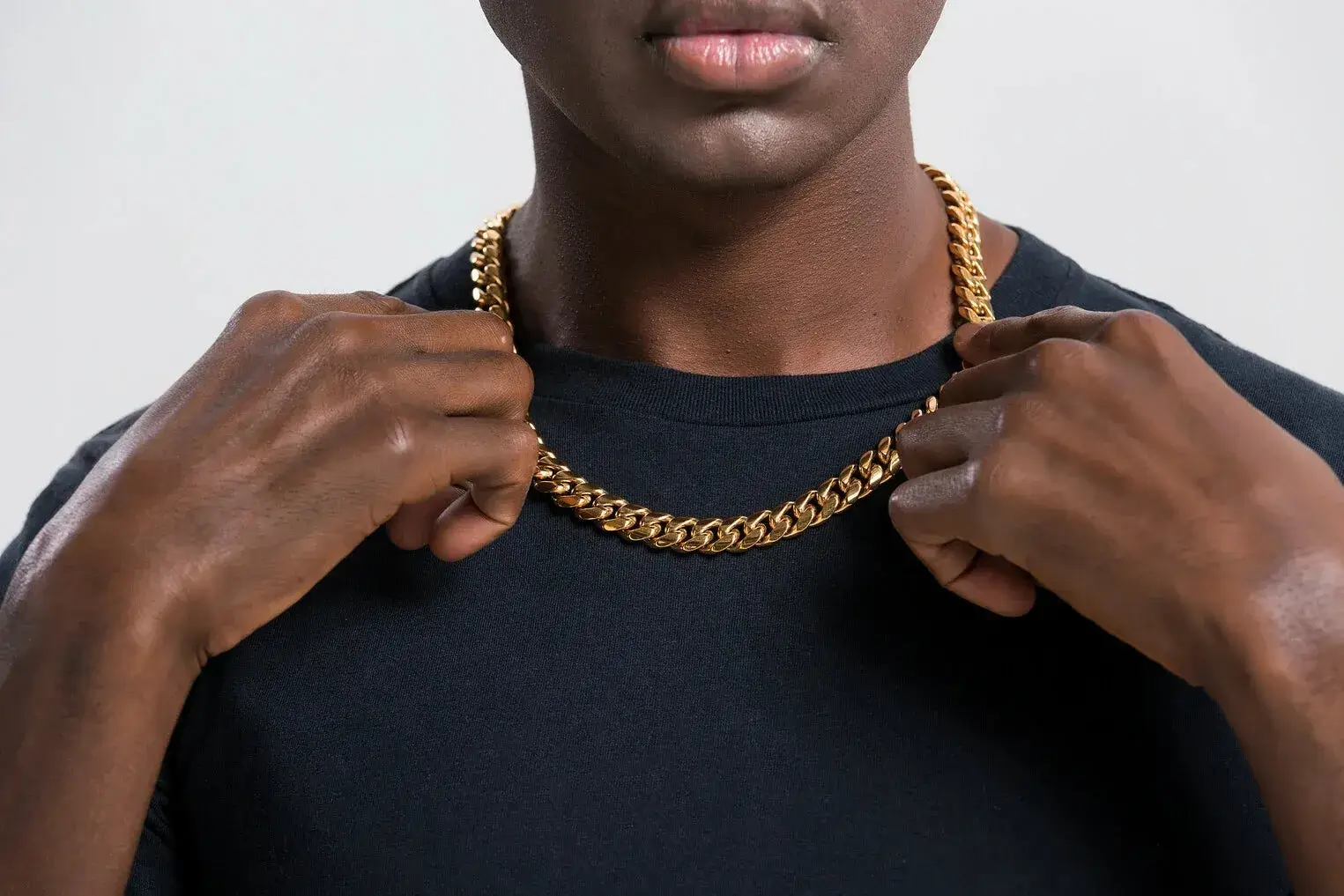 CLC&CO's 12mm Gold Cuban Chain
Types of Cuban Links
Cuban link chains were first created in the 1970s in Miami, and quickly gained popularity among hip-hop stars. Today, these distinctive chains are equally favored by men and women and are considered a must-have accessory for both formal and casual events. These fashionable cuban chains are available in different shapes, weights, and sizes, and can be broadly classified into six types: Miami Cuban Link, Prong Link Cuban Chain, Curb Cuban Link, Diamond Cut Cuban Link, Hollow Cuban Link, and Rope Cuban Link.
Let's dive into each type in more detail:
Miami Cuban Link Chain
This type of cuban chain is characterized by its thick, flat links that are closely interlocked, giving it a solid and bold appearance. It's a popular choice for men's jewelry and often worn as a standalone chain or paired with a pendant.
Prong Link Chain
The prong link, also known as the diamond-cut link, features a pattern of small, diamond-shaped links that are interlocked to create a chain with a unique texture and shine.
Curb Cuban Link Chain
The curb link chain has circular links with flattened edges that lie flat against the skin. This classic design has been around for centuries and is a popular choice for Cuban link chains.
Diamond Cut Cuban Link Chain
Diamond cuts are made on the surface of each link to create a unique texture and shine that resembles the sparkle of diamonds.
Hollow Cuban Link Chain
This type of Cuban Link is lighter and more affordable than solid Cuban link chains, as it's hollow on the inside. It's a great option for those who prefer a lightweight and comfortable chain.
Rope Cuban Link Chain
The rope link is created by twisting individual links together to create a rope-like appearance. This style of cuban link chain is a popular choice for those who want a unique take on the traditional Cuban link design.
In summary, there are different types of Cuban Links, each with its own unique characteristics and features. From the classic Curb Cuban Link to the modern Diamond Cut Cuban Link, these chains are a great way to add style and sophistication to any outfit.
Most Trusted Materials Used For Crafting Cuban Link Chains
Traditional handmade Cuban chains were crafted in gold and were thus regarded as a possession that passes from one generation to another. With time, trends have tremendously transformed; thus, these chains are now crafted using different raw materials, with gold still being the most popular choice for crafting this exclusive essential accessory.
Gold
Gold Cuban Chains are crafted in 10-Karat, 14-Karat, or 18-Karat gold and are designed for those who are ready to bear its cost. The pure gold material is not recommended for crafting these chains as it is soft and fragile and is thus likely to compromise the strength of Cuban links.
Sterling Silver
Sterling silver Cuban chains are for people who are allergic to metals. These are relatively light on the pocket and fall into the category of semi-precious ornaments. However, if you embellish yours with diamonds, these chains would not cost any less than the gold ones. Despite that, people prefer these for they are wearable and affordable.
Stainless Steel
A durable stainless steel Cuban Chain does not rust. It bears a strong structure supported by the rigid nature of its material. However, if you are planning to go for some sort of embellishments, you need to reconsider your choice of material.
Titanium Cuban Link Chains
If you are on a budget but still want to buy a high-quality and great-looking Cuban link chain, you can get one made from titanium. It is highly durable and is three times stronger than steel. It can withstand all forms of rough handling and is resistant to scratches and corrosion even if you wear it daily, unlike gold.
4 Most Popular Traditional Necklace Styles of Cuban Link Chains
Cuban link chains are viewed as a symbol of wealth, power, and stardom. Individuals use the beauty of these chains to establish themselves as style tycoons. The modern-day design of Cuban link chains is crafted to let comfort and style walk hand-in-hand.
Let us now have a look at some of the most popular traditional necklaces that look best with the Cuban link chains.
Milagrosa Cuban Chain
The Philippines and Napoleons believe that your wishes will come true if you wear milagrosa. This Cuban link chain necklace style dates back to 1808 when Napoleon invaded Spain. The unique outlook of this style displays a loop on one end paired with a finely crafted string on the other. This arrangement of links was to signify the submission of one's wishes to one God.
Aguacate Cuban Chain
Aguacate Cuban link chain necklaces are available in varying colors. These are crafted using a gold-plated sterling silver material. A special lacquer is then coated onto their surface to preserve their beauty, shine, and glamour for a longer time.
Tambien Cuban Chain
The T-shaped clasp of the Cuban chain necklace segregates it from others. These were first crafted in the early 1900s and are still popular among those who value their historical significance and blinding beauty.
Duende Cuban Chain
Duende absorbs evil intentions and spirits that try to harm an individual. There is an interesting history behind this popular Cuban Chain necklace. Precisely, these chains were crafted to keep the wearer safe from the curse and evil eye of an ugly monstrous being often mentioned in Spanish folklore. These chains display a dual-stranded design with medallions hanging between the two layers.
We Got the Cuban Link Chain You Are Looking For!
Looking for a silver Cuban link chain or a titanium steel Cuban link chain?
By now, you must have made up your mind to invest in this beautiful fashion accessory but, of course, it is not easy to decide on the right type for you.  Well, not anymore! Visit Cuban link chain (CLC) to check out the best selection of Cuban link chains made from pure silver and titanium steel. The best part is that these chains are highly durable and super affordable so you can get more than one without breaking the bank.
If you want high-quality Cuban link chain for men to gift your buddies or looking for a women Cuban link chain to surprise the lady in your life, we have got you covered.