Cuban chains have been a popular style for decades, and they continue to be a sought-after accessory in the fashion industry. These chains are known for their thick and striking links that create a bold and eye-catching look. However, if you've ever shopped for a Cuban chain, you may have been surprised by their high price tag. So why are Cuban Link Chains so expensive?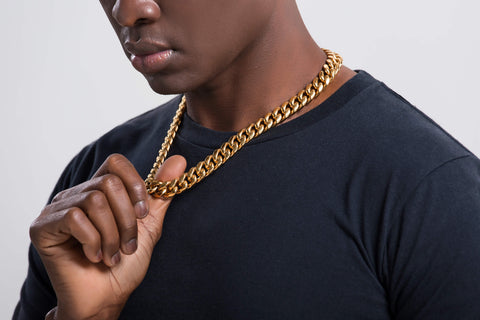 One reason is the materials used to make them. Cuban chains are typically made from high-quality metals such as gold, silver, or platinum. These metals can be quite expensive, especially if they are used in large quantities. In addition, Cuban chains are often made with intricate designs that require skilled craftsmanship to produce. The combination of high-quality materials and skilled labor can drive up the cost of these chains.
Another factor that can contribute to the high cost of Cuban chains is their popularity. These chains have been a staple in hip hop fashion for decades and have gained mainstream appeal in recent years. As with any in-demand product, the law of supply and demand comes into play. As more people want to buy Cuban chains, the price may increase to reflect their popularity.
Additionally, the value of a Cuban chain is often tied to its brand or designer. Some Cuban chains are made by high-end jewelry brands that are known for their quality and prestige. As a result, these chains can be priced higher than those made by lesser-known brands.
In conclusion, there are several reasons why Cuban chains can be expensive. The use of high-quality materials, skilled craftsmanship, popularity, and brand recognition can all contribute to their price tag. However, if you're willing to invest in a quality Cuban chain, it can be a worthwhile addition to your jewelry collection that will make a bold statement and last for years to come.
At CLC&CO, we offer a wide range of titanium and silver Cuban Link Chains for men. Whether you are looking for a specific size or length, we have got you covered. Our Cuban link chains are a more affordable alternative to gold and platinum, without sacrificing quality and durability. So, if you want to flaunt a high-quality chain without breaking the bank, visit our website today and choose the one that best fits your style.