pearl necklace
What are the rules of wearing pearl necklace?
Aug 10, 2023
Introduction
A pearl necklace is a timeless and classic piece of jewelry that has been worn by generations. Despite its popularity among women of all ages, many are not well-versed in the proper rules of wearing a pearl necklace. The right way to wear a pearl necklace can be difficult to determine, depending on the occasion, clothing choice, and personal style. That's why this blog will provide you with a comprehensive guide to the rules of wearing a pearl necklace.
In this article, we will cover everything from understanding the guidelines to dressing for specific occasions, to the rules of wearing a pearl necklace, tips on wearing pearl necklaces, and much more. So, whether you're a pearl necklace enthusiast or a beginner, this article is here to help you style your pearl necklace with confidence.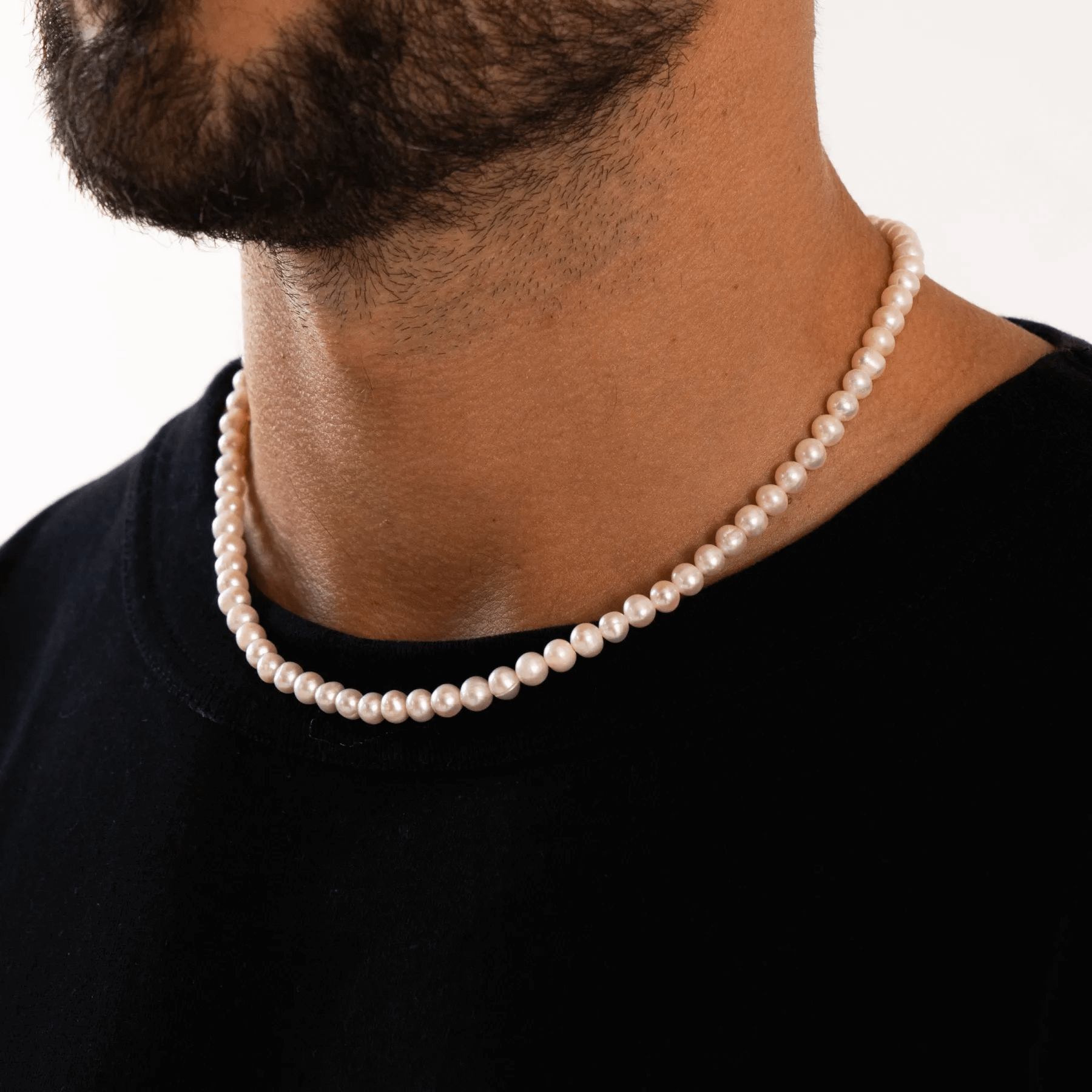 CLC&CO's Rounded Real Pearl Necklace
Understanding the Rules of Wearing a Pearl Necklace
For centuries, pearls have been valued for their rarity, beauty, and elegance. It's not surprising that people have developed certain rules and guidelines over time for wearing pearl necklaces. Here are some of the key factors you should consider when wearing a pearl necklace:
1. Occasion 
The occasion dictates everything about what you wear, including your pearls. For formal occasions, pearls can be an excellent choice. A single strand or a few small pearls can complement a business suit, while a long strand or multiple strands may be ideal for an evening event. However, casual events require a more relaxed approach to your pearl necklace. Consider a simple, delicate necklace or skip the pearls altogether.
2. Personal style
Your personal style should always take the lead when it comes to accessorizing with pearls. You can wear a pearl necklace as a statement or a subtle accessory. Choose a pearl necklace that suits your personal style so you won't have the added stress of looking uncomfortable with your choice.
3. Skin tone
Your skin tone can affect the color of pearl necklace that looks best on you. For example, ivory or creamy pearls look best on women with light skin tones, while darker skin tones can benefit from pearls that are darker, including black, grey or chocolate. Make sure you choose a color that complements your skin tone.
4. Clothing
Like any other accessory, pearls should be coordinated with your outfit. You can wear pearls with just about anything, but be sure to consider the neckline before selecting the length of a pearl necklace. With low-cut dresses or plunging necklines, consider longer strings or double or triple strands of pearls. High necklines look best with shorter lengths of pearls that are near or below the collarbone.
Now, let's dive into the rules of wearing a pearl necklace.
Rules of Wearing a Pearl Necklace
Rule #1: Setting the Tone Right
When it comes to pearl necklaces, it's essential to set the tone right. If you're wearing a pearl necklace at a formal event or in a professional setting, you should opt for a classic look. A simple single-strand pearl necklace is the best option for making a statement that is both smart and sophisticated. However, if you're wearing a pearl necklace casually, you can go for something more playful and experimental.
Rule #2: Mixing and Matching
Pearls are not meant to be worn alone. They need to be combined with other pieces of jewelry. The key to mixing and matching with pearl necklaces is to use accessories that complement it. For example, if you're wearing a pearl necklace with a classic look, choose accessories that are also classic, such as simple stud earrings or crystal bangles. If you're wearing a playful pearl necklace, you can get more daring with your accessories, perhaps opting for big chunky bracelets and hoop earrings.
Rule #3: Layering the Pearl Necklace
Layering pearl necklaces is a trendy and fashionable way to wear pearls. Start with a simple single strand and layer other pearl necklaces with the same string length or slightly different lengths to achieve a varied, sophisticated look. With this technique, you can create an elegant look that's perfect for any occasion. Keep in mind that layering your necklaces can be done with other necklaces, not exclusively pearls.
Rule #4: The Size of Pearl Necklace
The size of the pearl necklace is also important. The size of the pearls can help determine what type of dress the pearl necklace should be paired with. Large pearls are best paired with evening gowns or other dressy occasions. Smaller pearls look best with a nice blouse for work or casual wear. However, when choosing the size of pearls, think about your personal style and make sure it compliments what you typically wear.
Rule #5: Proper Care for Pearl Necklace
Pearls are delicate pieces of jewelry, and you need to take proper care to keep them in good shape. Pearls are incredibly sensitive and need to be kept away from harsh chemicals and environments. They can get damaged easily because they are prone to scratching and cracking. When storing a pearl necklace, it's best to keep it separate from other jewelry to avoid scratching. Use a soft cloth to clean the pearls and avoid getting them wet.
Tips on Wearing a Pearl Necklace
Now that you're familiar with the rules of wearing a pearl necklace, let's look at some tips on how to wear a pearl necklace:
Tip #1: Choosing the Right Color
When selecting a pearl necklace, it's important to consider the color of the pearls. Different shades of pearls complement different skin tones. For the most part, if you have a warmer complexion, then your skin type can look better with golden, cream-colored pearls. Cooler skin tones look better with bluish or icy-hued pearls, like grey or blue.
Tip #2: Wearing Pearl Necklaces with Different Necklines
Like we mentioned earlier, the necklines of your clothing determine the length and style of your pearl necklace. Use this as a guide when determining which pearl necklaces to wear with which pieces of clothing. A V-neck blouse or dress looks the best with a V-string of pearls or a long strand, while turtlenecks or high neckline tops look best with a short string of pearls.
Tip #3: Taking Care of Your Pearl Necklace
Pearl necklaces are delicate, and it's vital to treat them appropriately when storing or cleaning. To clean your pearl necklace, use a soft cloth, and avoid harsh chemicals or cleaning products. When storing your pearl necklace, keep it away from other jewelry that may potentially scratch or damage it. Additionally, avoid storing it in a humid or warm location.
Tip #4: Mixing and Matching with Other Accessories
If you're looking to mix and match other accessories with your pearl necklace, make sure that those accessories are complementary to pearls. When you wear other pieces of jewelry with a pearl necklace, consider making it less noticeable so that the pearl stands out. A simple pair of crystal stud earrings or a single thin bracelet are excellent choices if you want to accessorize further.
Conclusion
In conclusion, the rules of wearing a pearl necklace aren't so difficult to follow. If you understand the guidelines and know how to style your pearl necklace, you can be the masterpiece of style and elegance. Keep in mind that the occasion, personal style, and skin tone play important roles when wearing a pearl necklace. Remember to take good care of your pearls and store them properly. When you follow the rules and tips mentioned in this article, you can accessorize with a pearl necklace confidently that'll make heads turn.