rope chain
How to clean your gold rope chain at home?
Aug 10, 2023
If you are trying to keep the luster and look of your gold rope chain clean and new looking, there is a simple way to do so. It is easy to apply, and doesn't take much time or effort from you. You can treat your gold chain as soon as you notice any tarnishing, even while it is in use. There will be no harm in doing this, and you will have a clean looking chain that remains bright.
In order to keep your gold chains shining and looking as good as new, you may want to perform some routine cleaning that can help you remove all of those impurities which will ultimately alter the color and luster of the chain. Here are some steps you should take if you need to clean your gold jewelry chains.
A gold chain can last for years if it is given proper care. Cleaning a gold necklace to keep it shiny and bright ensures that it will be a more treasured heirloom in the future.
There are so much ways to do it.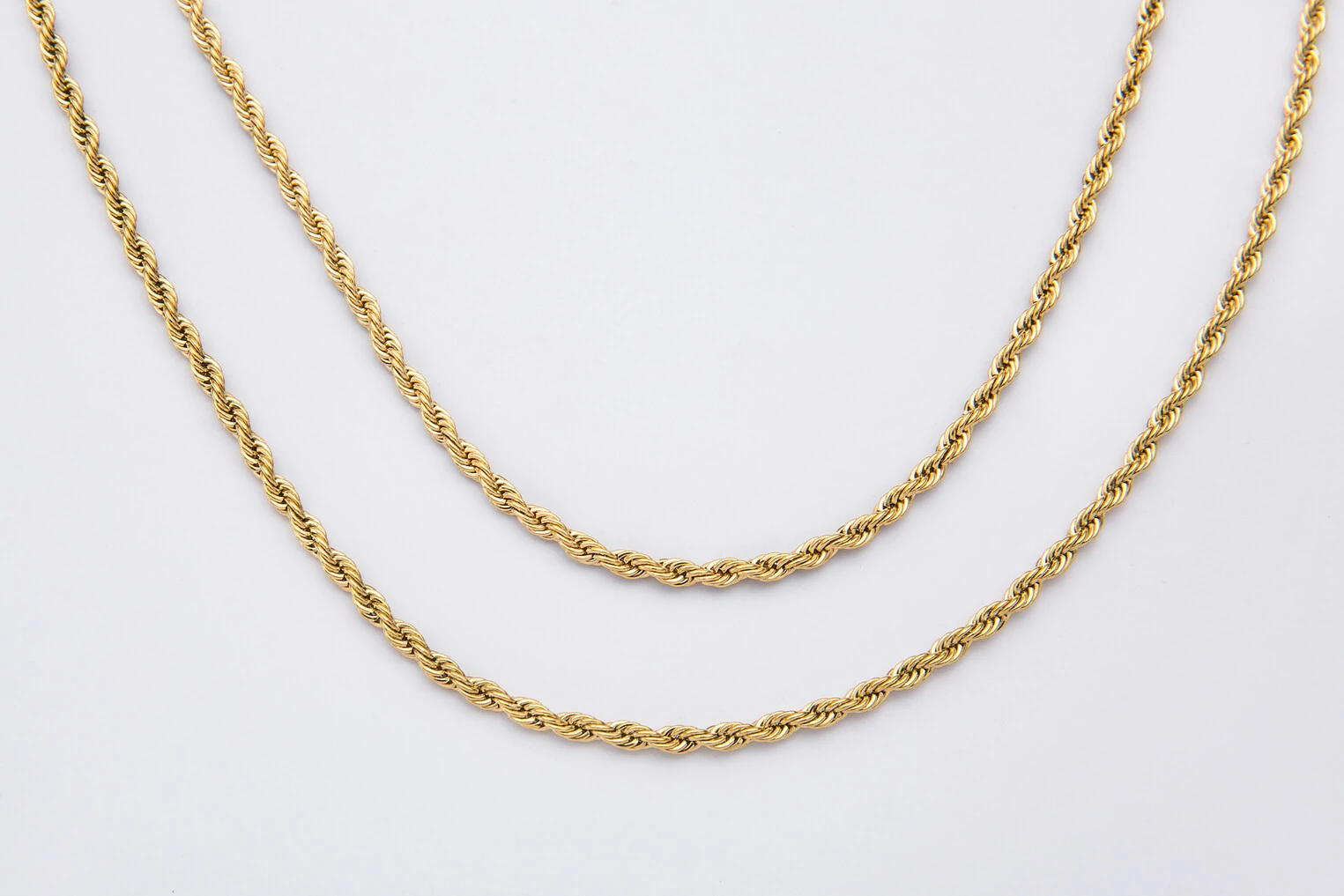 Method 1 – Use soap and water to Clean rope chain
The process of cleaning a gold chain can be broken down into two parts: removing dirt and grime with mild soap, then polishing the surface of the metal. By doing this, you'll ensure your gold chain looks its best while reducing the likelihood of damaging it.
It's very easy to get carried away with solutions that claim to magically restore the luster of your normally tarnished gold chain. We highly suggest you keep things as simple as possible, so you can ensure that your gold chain gets the best possible cleaning. After all, even a little bit of tarnish can dramatically affect the look of your jewelry in a negative way.
Method 2 – Cleaner Ultrasonic
A gold necklace will last for ages if it is kept in good condition. To that end, you need to clean your gold chain regularly so that it does not pick up dangerous contaminants. Fortunately, ultrasonic cleaning is a safe and effective way to achieve this without damaging your necklace. If your gold necklace is nice and clean, it can be stored in a soft cloth bag for extra protection as well.
The ultrasonic cleaner uses smaller vibrations and is therefore less likely to damage or change the integrity of the gold chain. Some of these cleaners are also specifically designed for jewelry, which means that they can avoid damaging your gold jewelry. Best of all, it's easy to use and affordable compared to expensive professional cleaning services that you may need when dealing with extremely valuable pieces of gold.
Method 3 – Bring Your Gold Rope Chain to boiling water
This method is a fast and effective way to clean gold chains. The boiling water method can be used to clean a variety of jewelry including gold bracelets, necklaces and earrings.
It is important that the gold chain be submerged and exposed to boiling water. Otherwise, the boiling water will not have an effect. Any shininess that may occur when the gold is heated still occurs even if the chain is not completely submerged in boiling water, but this method is best if you can manage it.
Finally, by following the above instructions you will manage to clean your gold chain in a safe and effective manner.
How to Care for your gold rope chain? 
As you can see, it is not very hard to clean your gold chain. Generally, jewelry cleaning solutions that include a mild detergent works best. If at all possible, avoid using bleach, as it can dull or damage your jewelry over time.
You can keep gold-plated chains looking as good as new with a little diligence. It may also be worthwhile to regularly clean your gold chains to bring out the shine.