Classy, modern, and versatile – Cuban link chains have taken the jewelry market by storm since the '70s and continue to be a symbol of style and luxury. You must have seen these sleek and intricately designed gold chains draped around the necks of almost every hip-hop artist and rapper of the century.
Have you recently purchased a Cuban link chain or looking to buy one and want to learn more about the different ways you can style them? Well, do not worry because you have come to the right place.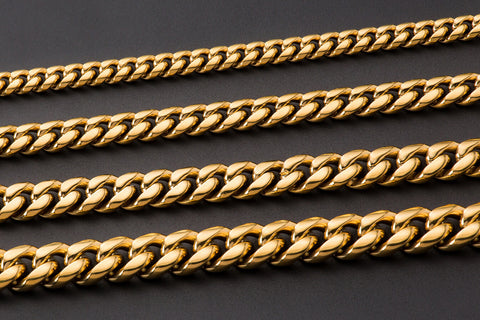 CLC&CO's 12mm Gold Cuban Chain
Cuban Link Chains and Who Are They For?
Cuban link chains – mostly made from valuable metals like gold, silver, platinum, and their alloys, are a modification of the classic cable chain with oval-shaped links closely weaved together, forming a rope-like pattern.
Today, they can be found in various forms like bracelets, belts, and necklaces.
Authentic Cuban link chains are manufactured only at a few shops in Miami, and their price range can go from $27,000 to a whopping $200,000 due to the expertise required to make these delicately designed chains. But you can also buy high-quality Cuban link chains made from silver and titanium steel that are highly cost-effective.
Commonly associated with hip-hop and streetwear, their popularity is rising more each day as they also symbolize wealth and luxury. Although mostly men opted to accessorize themselves with this piece of jewelry in the past, contemporary women and female rockstars have also shown a liking for these chains.
In simple words, the simplistic and unique design of the Cuban link chains makes them a versatile choice for anyone who would like to decorate themselves with elegance. What's more, one can easily modify the way they wear this chain to fit their personal style.
Spice Up Your Look – How to Wear the Cuban Link Chain?
Perhaps one of the major reasons why Cuban link chains are such a beloved accessory is because of how versatile they can be. It is a wedding, formal dinner, or just a casual day out in the city; they are meant to make you stand out. Below are some fantastic ways you can wear your Cuban link chain:
Stand Out From the Crowd
Although associated with streetwear and hip-hop, these sleek, intricately designed chains are bound to turn heads if you can pull them off with a professional look.
Curious about how to pull this off? Well – just get a white-collar shirt from your wardrobe and a suit with dark hues. Next, simply drape on your versatile Cuban link chain, and you are good to go! This style is best suited for parties or big events and will surely make your presence memorable.
Keeping It Real
Running low on time and don't have much energy to plan out your outfit?
Wear your Cuban link chain jewelry with a plain white tee to accentuate your features and add an effortless oomph to your style. You can spice up your outfit further with the addition of a jacket and ripped jeans.
Mix It Up
Kanye is notorious for sporting an odd combination of outfits, like a mint-green sweater, denim jacket, and jeans, but it surely doesn't go out of style.
Just like that, you can mix and match different hues and apparel to create the perfect look to showcase your uniqueness with your Cuban link chain.
Look Cool in the Summer
Want a true cool summer look? Make a statement by pairing your Cuban link chain necklace with a simple vest and shorts in the summer for a cool outlook.
Turning the Heat Up
When the winter cold is chilling you down to the bones, turn the heat up a notch by accessorizing your outfit with the versatile Cuban link chain. They look absolutely chic with a leather jacket, coat, or sweater.
The Magic Cross-Over
Like the Cuban link chain, chokers are another accessory quite hot in the market these days. You can purchase a choker-style Cuban link chain or even turn your long chain into one by layering it.
Ice Ice Baby!
Bring a little sparkle to your life by taking things to the next level. Wear an "iced out" Cuban link chain if your pocket allows it. These are basically chains encrusted with gemstones or diamonds. There is surely nothing more alluring than jewelry embellished with sparkling diamonds.
Paint it the Way You Like
Feeling a little feisty and want to find out what more you can do with your Cuban link chains? Well, there are a million variations you can try to achieve artistic flair. Perhaps, you can layer several chains of varying thicknesses and lengths or give a more personalized look with a crafty pendant. There's no end to it.
However, the key here is to find the right balance. You do not want to go overboard and end up looking overdressed. Thus, make sure that you keep things minimalistic yet stylish.
Choosing the Right Chain
When it comes to picking the right chain for you, there are many factors to consider, like the type of metal (gold, silver, platinum, titanium, etc.), thickness, length, number of links, and the weave pattern on them.  
Make sure that you select a chain that best fits your physique to accentuate your features. Additionally, it is also crucial to identify the purpose of your purchase. For example, if it's for a more casual look, you might want to steer clear of the chains with an added bling to them.
Similarly, you can decide the length by knowing which kind of outfit you want to pair your chain with. Longer chains look better with T-shirts, while a choker-style one goes best with coats and jackets in the winter.
Confused About Which Cuban Link Chain Will Fit Best To Your Style? Don't Worry.
Visit our website, Cuban Link Chain (CLC), which has an assortment of intricately designed chains made from silver and titanium steel that won't cost you an arm and a leg.